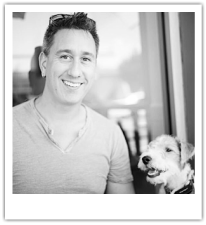 Cyrus Hogg has been passionately working in the Entertainment industry for twenty three years. Originally a classically trained animator from Ottawa, Canada, Cyrus harbors a healthy yet fearless obsession for art and technology.
Learning in the 90's by partnering with SGI, Alias, RealViz, Kaydara, and Softimage, Cyrus was able to use his skills to lead artists in both Game Development and Feature Animation. He then partnered with Carleton University's Architecture department to build
CIMS, The Carleton Immersive Media Studio
. Here, he helped students visualize lighting simulations and a passive stereo walk-through of their architecture models.
Mr. Hogg built, and managed Karbon Arc, an award winning production company, which he then sold to
agency
Fuel Entertainment
.
Although wearing many hats, his accomplishments as Producer, Director, and Creative Director include a long list of award winning commercial content for brands and Agencies in North America and Europe, some of which include Nokia, Wrigley, McDonald's, Dell, Subaru, 20th Century Fox, Eidos, Mazda. His original concept and direction on Nokia's 'The Passenger'
was shortlisted at Cannes for it's seamless, interactive Flash video driving experience through the streets of
Île Saint-Louis, Paris.
Mr. Hogg also worked on Zach Snyder's feature film, SuckerPunch
,
as Lead Technical Director using a proprietary computational fluid dynamics engine within Maya. He was tasked with some of the most difficult and rewarding fire simulation shots on the film.
Now at his company, Test Pilot Productions, Cyrus converges his skill set to bring ideas to reality. Most recently Cyrus produced and directed a stunning anamorphic commercial spot for Ecco Shoes. Cyrus is also exploring AR/VR and working with Los Angeles based companies to determine how it fits into our current society's needs and wants. With an original creative approach, combined with an intense knowledge and appreciation of technology, Mr. Hogg proves to be invaluable force in both development and production.
Cyrus' most recent accomplishment,
INTREPID
, is a non-stop 3 minute Sci-Fi / Action proof of concept that he wrote, directed, and brought to fruition. With over 1.2 million views Cyrus is now in development with a Hollywood Production Company to create the feature film.
---
On a personal note, Mr. Hogg holds a private pilot's license, and owns his own airplane which he flies for inspiration. Mr. Hogg is also one of the rare Instructors trained by Bruce Lee's personal friend and student in the art of Jeet Kune Do. This appreciation for adventure is further infused in his ability to keep both clients and audiences, attentive and entertained.

---
---