SAMSUNG EXPERIENCE | CHEF DANIEL BOULUD | Holor Media - CAMERA OPERATOR
---
| | |
| --- | --- |
| 3D ANIMATED HOLO - MICROSOFT CONNECT FACE SCAN TESTS | PREVIS - ANIMATED SEQUENCES IN IMAGE-MODELED ENVIRONMENT |
SONY A7RII TESTS WITH SLR MAGIC ANAMORPHIC LENS
---
SHIELD EXPANDED REALITY CAMERA - BY CYRUS HOGG
When helping build the Carleton Immersive Media Studio (
CIMS
) and working with RealViz, I was fascinated by photogrammetry and the extrapolation of 3D data. A few years ago, I started thinking about creating a camera with parallax viewing with optically captured elements that could be implemented in today's Hollywood pipeline. Where a DP could swap out their Alexa or Red and still use a tripod, dolly, motion control and focus puller. I became tired of trying to explain my idea to people who just wanted 360 videos, and decided to build a quick prototype myself. Meet the Shield Camera Array.
| | |
| --- | --- |
| TOUCH DESIGNER TEST #2 | STEREO VR TEST FOR 'SHIELD' CAMERA PROTOTYPE |
Although 360 video has it's place, my interest has been with stereo immersive experiences. Shield Array would generate stereo imagery and I decided to duct tape a couple 360 cameras together to do some tests of my own.


---
TOUCH DESIGNER TEST #1



Using Touch Designer, I created a basic 9 camera X axis array used for the prototype. I recorded 9 video clips via GoPro 1" appart to represent a 9 camera array. Head tracking would be triggered for camera movement however joystick is used in demonstration. Real-Time optical frame interpolation required to smooth movements.

SHIELD CAMERA LENS ARRAY



Here's a basic preview of the optical array capable of delivering Stereo with X,Y head movement. Each lens is rougly 180 degree FOV. The intention is to create a portable unit that could be used immediately on Hollywood productions.

POINT CLOUD EXTRAPOLATION FROM LENS ARRAY

(sample image from web)
With additional data available from a point cloud extrapolation, post effects become affordable and possible in real-time using powerful cloud rendering GPU's. Creating DOF or rack focusing with a client watching could be viewed on the monitor at video village.
---
CAMERAS AND LENSES
JANUARY 2017 - ON SET FOR ECCO SHOES COMMERCIAL - DIRECTED AND PRODUCED

JANUARY 2017 - ALEXA MINI WITH COOKE ANAMORPHIC PRIMES ON STEADI-GIMBAL


Part of my healthy obsession extends into cameras and lenses, and most recently anamorphic lenses. I've spent an unforgivable amount of time testing and studying how certain lenses look and feel to help dictate the look I want to create on productions.

---
---
KARBON ARC - STUDIO #2 - BUILT IN 2008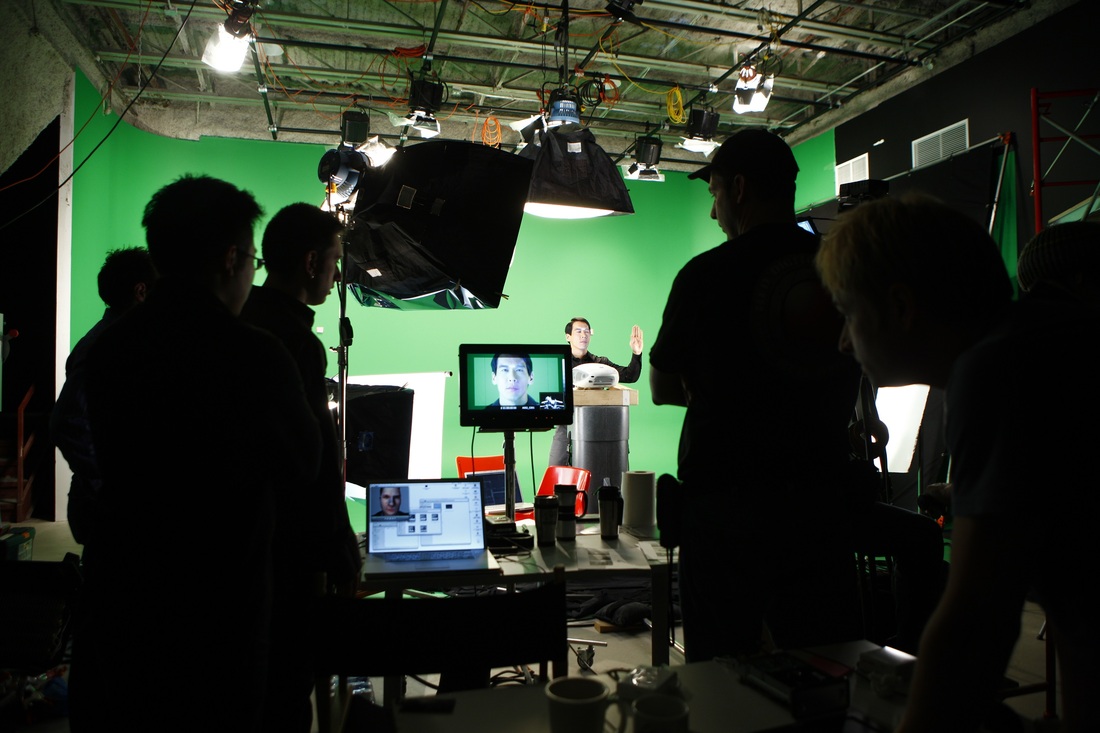 ---
---